Enjoying its first public showing at Rocky Mountain Audio Fest 2017 this weekend will be PS Audio's PureStream Power Plant P20: not a power filter but a power regenerator: "Power Plants take your incoming AC power and regenerates new sine-wave-perfect, regulated high current AC power. In the process of regeneration any problems on your power line such as low voltage, distorted waveforms, sagging power and noise are eliminated. The results are both audibly and visually stunning when powering either audio or video products."
The P20 is the largest Power Plant to date "offering lower distortion, lower output impedance, more output devices and greater current capacity than any product on the market", according to the press release.
The P20 will also feature a new graphical user interface (GUI) to provide more information on both input and output signals than previous Power Plant units, namely the P5 (US$3500) and the P10 (US$5000). However, such is the nature of audio show product previews, the retail price of the beastly P20 is still to be determined. In the meantime, check out those love handles.
Inspecting its business face – the rear panel – the P20 offers four high current capable power sockets and twelve standard. That's more than enough for one heck of a system. And one heck of a system, juiced by a pair of P20, is precisely what PS Audio will be bringing to Denver.
US$100K's worth of audio hardware breaks down as follows:
PS Audio's DirectStream Memory Player (DMP) will feed their DirectStream DAC which in turn will push an analogue signal into a BHK Signature Preamplifier and onto and a pair of BHK Signature 300 monoblock amplifiers.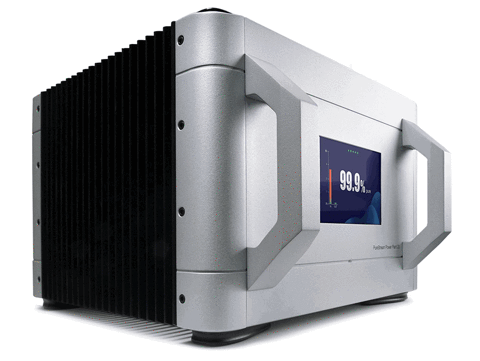 Final output will come from the Focal Sopra No. 3 loudspeakers augmented by a pair of REL 212/SE subwoofers. Power cables will be PS Audio's own; interconnects will come from Colorado's MG Audio Design. Housing the electronics will be Fin Art's audio furniture.
For their Denver show demo, the P20 Power Plant will allow PS Audio to leapfrog one of they key obstacles to good sound: poor quality mains power. That spells more time on the frantic setup day to focus on properly integrating loudspeaker and room – no mean feat.
With wall socket mains power often at its noisiest during audio shows, RMAF 2017 provides the perfect backdrop for PS Audio to move their show demo into A/B comparison territory. Product audition-minded attendees are no longer invited to listen past an unfamiliar room (the biggest influencer of sound quality in any system), electronics and music but instead get to hear the same piece of music played twice: with and without the P20's power regeneration smarts.
Of course, as company CEO Paul McGowan explains in the video below, quick fire AB comparisons "are fraught with troubles". He's not wrong. For our theoretical RMAF A/B, there's the very real possibility that the intrusion of hallway chatter or the room's (Spruce 1) sonic makeup could swallow some or all of the P20's audible amelioration.
In whatever manner PS Audio choose to run their RMAF 2017 demo, attendees can be assured of an opportunity to drink deep from what promises to be a deep show-n-tell well.
RMAF runs 6th – 8th October 2017 in Denver, Colorado.
Further information: PS Audio